Day 7 Begins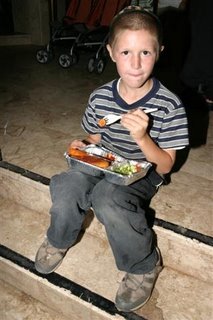 Today we are off to Lebanon.
I cannot impress upon everyone how difficult the situation is here in the northern part of Israel. Many of the small businesses have had to close because of the war and the people were not only appreciative of what we brought them but they repeatedly implored us to tell them when we will be back, "we really need you."
It is heart wrenching to witness the need and yet simultaneously there is a
stoic-ness
of these Isaelis that allows them to continue with their daily lives knowing that there is another attack just around the corner. They
are
boosted knowing that there are still people out there in the land of plenty (the good old USA) who care enough about them to take time out of their busy lives to visit and
help. Please join us.
And again thank you to everyone who has helped out materially and spiritually to make this such a successful trip.